County Populations (2010)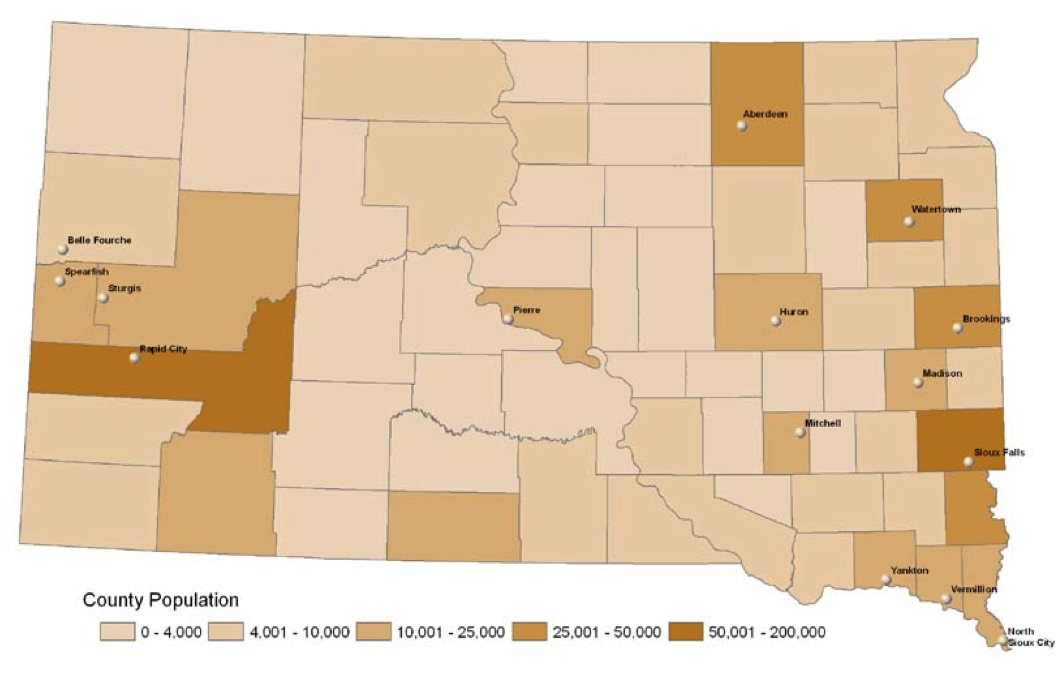 Historical State Population


Population Distribution


Labor Force in South Dakota (2009-2010)
County Unemployment Rates


Annual Average Unemmployment (200-2010)

Travel Time to Work


Agriculture
South Dakota's agriculture industry is a substantial contributor to the state's economy. Today, agriculture generates $21 billion in annual economic activity. Ag in South Dakota contributes nearly $3.4 billion directly to South Dakota's economy, 8.4 percent of the state's Gross Domestic Product.
Manufacturing
The manufacturing industry comprises approximately 8.9 percent of the Gross Domestic Product by State in South Dakota. The sectors growing this industry in the state are Beverage & Tobacco Product, Transportation Equipment, Machinery, and Fabricated Metal Products Manufacturing.
Business Climate

South Dakota businesses have consistently enjoyed a pro-business climate. We're the only state in the nation with no corporate income tax, no personal income tax, no personal property tax, no busi- ness inventory tax and no inheritance tax. You'll see why so many businesses are choosing to call South Dakota home.
South Dakota Taxes and Business Costs (2012)
Highways
South Dakota is intersected by two interstate highways, I-29 & I-90, along with several major U.S. highways, providing easy access to anywhere in the United States. the South Dakota Department of Transportation operates approximately 7,857 miles of highway including 678 miles of interstate highway.
Communications
With today's telecommunications infrastructure, a business is no longer in the middle of nowhere. They are everywhere. And South Dakota's telecom providers ensure a business can be everywhere without delay or interruption. A wide array of services are available through our telecom providers, including:
Self-healing architectures
Redundant rings
All communities with fiber access have at least DS3 service
Micro & Metropolitan areas have access to OC3 to OC192 and EGig networks
Metro Ethernet
Single-line, multi-line or PBX trunk line services
Asynchronous Transfer Mode (ATM)
Dedicated, private, point-point lines
Digital Subscriber Line (DSL)
Integrated Services Digital Network (ISDN)
Frame Relay
High Speed Internet
Web hosting
Video Conferencing
Local and Long distance services
Disaster Recovery
Source: S.D. Bureau of Information and Telecommunications, SDN Communications.

Fiber Optics in South Dakota
Recreational Opportunities
Water Sports
1,100 Square Miles of Water
220 Public Water Access Points
300 Boat Ramps
59 Beaches

Golf

Camping and Hiking
12 State Parks
103,113 State Park Acres
49 State Recreation Areas
3,883 Campsites
113 Cabins
5 Lodges
667 Trail Miles
4,549 Picnic Tables
58 Playgrounds
500 Climbing Courses

Hunting and Fishing
5 million acres of public hunting lands
7 species of small game
6.6 million pheasants
20 species of waterfowl
7 species of big game
Nearly 30 species of fish