National Women in Small Business Month Feature Hillarey Warner
Tuesday, October 20, 2020
HH Design is one of the many successful women-owned businesses in Britton, South Dakota. Owner, Hillarey Warner, fulfilled her dream of becoming a full-time graphic designer in 2014. As a successful entrepreneur and woman in business, Warner has blazed her own path, warding off distractions, to become a staple business in Britton. She provides community members with screen-printing, stationary printing and embroidery application among many other services.
After graduating from Northern State University with a BA in Advertising Design, Warner knew she wanted to return home and support the small community she grew up in, Britton. She credits the town with helping her develop her talents and strives to give back. In addition to being one of the community's business owners, she is also a member of the Britton Chamber of Commerce and volunteers for other local organizations. As of January 2020, Warner has joined the South Dakota Retailers Association Board of Directors of South Dakota as well.
Warner began her business working from home and quickly realized she would need a larger space to work. She leased a small space at a local shop on Main Street for a short time, providing the town with screen-printing, embroidery services, sign making, wedding stationary and even vehicle wraps. Her business was growing so quickly that she knew she needed to further expand her operations.
In August of 2016, Warner purchased her first building on Main Street. The building also housed two other community businesses in addition to her own store. Two years after purchasing and remodeling this space, Warner's father advised her to purchase an even larger building in Downtown Britton.
"During the summer of 2019, my dad told me, not sure if he was just kidding or being serious, that I should buy the old Lee & Hanson building for a bigger space. At first, I thought there was no way I needed that much space. It was only years ago that we had finished the remodel on our first store and remodeling another wasn't something I had on my radar. But, it got me thinking," Warner says.
Warner knew her current space was crammed and it might be time to expand.
"Our equipment was located in the basement, so maybe a bigger space wouldn't be so bad. I called up Roger Furman, the owner of Lee & Hanson who had retired, and I asked him about his building. In October 2019, we owned the building and started the remodel. We were able to open in May 2020," she continues.
GROW SD provided Warner and HH Design with financial assistance for the purchase of the new building. GROW SD also offered financial assistance to help Warner purchase new equipment so the business could do work in-house rather than outsourcing these operations.
While HH Design has experienced much success overall, COVID-19 presented a few roadblocks. Warner made the best of the slow down by contributing even more of her time and efforts to the community.
"Since a lot of the work we do is for events (runs, prom, sports teams, etc.) and businesses, we slowed down for a month or two when everything was being cancelled and businesses were being more careful about their spending," Warner says of the pandemic.
"We had to get a little creative, so we offered COVID-19 themed graphic tees and coloring tees for kids to color while they were at home. We started to offer delivery and shipping as well. We also began a fundraising campaign for local businesses called Here for Good in Britton," she continues.
The Here for Good campaign featured 30 businesses on the HH Design website. It raised over $3,500 that all went directly to businesses in Britton. During the campaign, $10 from each sale went to the independent business customers chose to support.
Warner chose to support her community in a time when many small businesses, including her own, were struggling.
"Our community and the people here have a lot of pride for what we have to offer here in our small town. Residents have always tried to support local businesses, but when they knew businesses were hurting, they put even more effort into trying to help in any way they could. Whether it was grabbing some popcorn from the Strand Theatre's drive up popcorn nights, ordering take out from local restaurants or buying gift cards from local businesses, many people helped," Warner says of local support during the pandemic.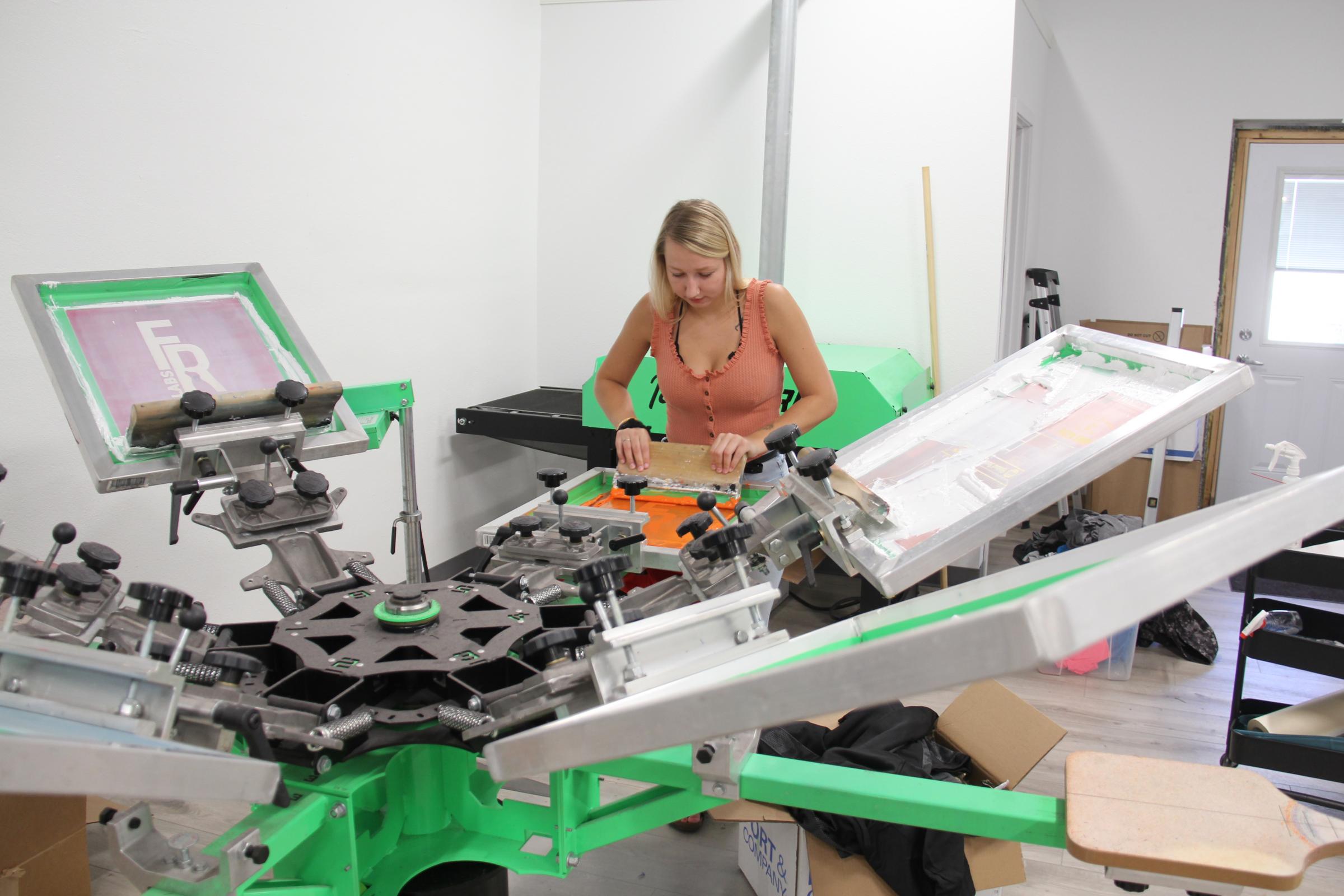 HH Design continues to find success in Britton in spite of the pandemic. The business offers in-house screen-printing, embroidery and direct to garment printing as well as graphic design services, wedding stationary, signs, decals, awards, printing, Britton-Hecla Braves apparel and more. HH Design has also recently added a small boutique to the store.
Hillarey Warner is a strong, tenacious and successful woman in business and pillar of her community. Celebrate National Women in Small Business month this October by shopping at HH Design and other local women-owned businesses. Go to www.h-h-design.com or visit the store in person at 720 Main Street, Britton, SD.

For more information about GROW South Dakota's business development programs and services, please visit our website at www.growsd.org or call (605) 698-7654.